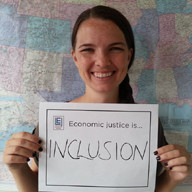 Leah Lotto
Senior Attorney and Associate Director of Training
As Associate Director of Training, Leah leads NCLEJ's work to provide high quality training, professional support, supervision and mentorship to our staff members, fellows, and interns.
Leah joined NCLEJ in August 2014 as the second Paul M. Dodyk Fellow for Economic Justice.
She has represented low-wage workers and community-based organizations through litigation and policy advocacy. Cases have included stopping wage theft, advocating for fair and equitable pay, and defending the rights of immigrant communities.
Leah previously was a senior staff attorney with Georgia Legal Services Program's Farmworker Rights Division, where Leah litigated federal court cases on behalf of both local U.S. farm workers and H-2A guest workers from Mexico to seek justice for minimum wage violations. She has also litigated federal court employment discrimination cases to fight for workers turned away and unjustly fired from farm work jobs on account of their race and national origin.
She is a 2009 graduate of the NYU School of Law and a 2002 magna cum laude graduate of Amherst College.