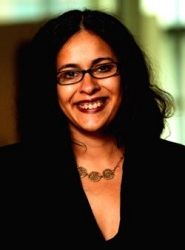 Anjana Malhotra
Senior Attorney
Anjana Malhotra joins NCLEJ as a senior staff attorney, following over 15 years of experience in civil rights litigation and movement lawyering, and as a law professor.
Prior to joining NCLEJ, Anji served as an Assistant Attorney General for the Civil Rights Bureau in the office of the New York Attorney General, launching and conducting the OAG's first large-scale investigations into systemic police misconduct, unconstitutional jail conditions, false police reporting, and civil hate crimes. Previously, she taught at SUNY Buffalo and Seattle University Law Schools, where she developed and taught legal clinics supervising students in representing individuals and community groups in high-impact racial justice and immigrants' rights cases in federal and state courts. As a law professor and fellow, Anji and her students successfully challenged Arizona's ban on ethnic studies in Arce v. Douglas, 793 F.3d 968 (9th Cir. 2015), police and immigration authorities' racial profiling and unconstitutional law enforcement practices, and employers' wage theft and harassment of day laborers. Anji previously collaborated with NCLEJ to bring Black Love Resists in the Rust v. City of Buffalo, challenging the Buffalo Police Department's use of suspicionless vehicle checkpoints and excessive ticketing practices disproportionately targeting communities of color.
Previously, Anji worked as a Practitioner in Residence with Seton Hall School of Law; as a labor lawyer with GRMNY; as the Aryeh Neier Fellow at the American Civil Liberties Union and Human Rights Watch; and as a law clerk for Judge Harry Pregerson of the Ninth Circuit Court of Appeals. She is a 2002 graduate of New York University School of Law, where she was a Root Tilden Kern Scholar, and is magna cum laude graduate of Duke University.
Anji has authored articles on race and the criminal and civil justice system and has taught civil rights, social justice lawyering, and appellate advocacy. She is the recipient of the Lawyers of Color "50 Under 50," honoring the most influential minority law professors 50 years of age or younger, the Gustav Heningburg Civic Fellowship at Rutgers University, and the Council of American Islamic Relations-New Jersey Access to Justice Award.