NCLEJ and Co-Counsel Sue City of Buffalo to Stop Discriminatory Checkpoints and Traffic Enforcement
The National Center for Law and Economic Justice, along with co-counsel Western New York Law Center and the Center for Constitutional Rights, filed a class action law suit today against the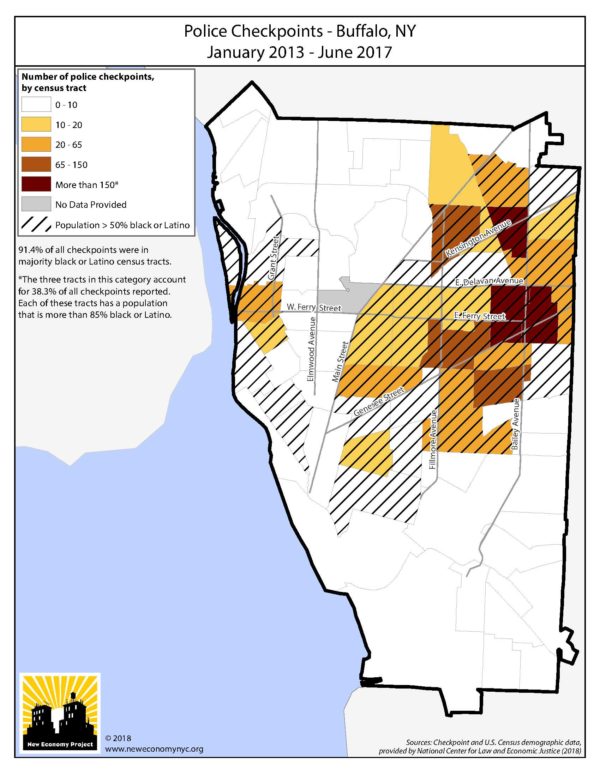 City of Buffalo and the Buffalo Police Department to challenge the Buffalo Police Department's systematic and unlawful targeting of communities of color and the City of Buffalo's aggressive, punitive traffic enforcement resulting in millions of dollars in ticket revenues on the backs of low-income drivers.
NCLEJ and co-counsel brought the action on behalf of thousands of individuals, as well as the organization Black Love Resists in the Rust, whose members have been harmed by the Checkpoints program.
Since 2012, the Buffalo Police Department has conducted thousands of constitutionally impermissible "traffic safety" stops. The checkpoints were placed overwhelmingly in Black and Latinx neighborhoods, and police officers were issuing excessive traffic summons to increase city revenue. 91.4% of all checkpoints were in majority Black or Latinx census tracts, and race was a driving factor in the locations of these checkpoints.
The lawsuit aims to stop these discriminatory policing practices that have subjected communities of color in Buffalo to both unreasonable intrusion and relentless revenue harvesting through unfair ticketing, towing, suspensions, and arrests.
This case arises at the intersection of two of NCLEJ's ongoing areas of litigation focus: racial justice and unfair and abusive debt collection practices. For more information, contact Claudia Wilner.
Read our Press Release
Read our Complaint
Read more about our previous action