NCLEJ Fights Against Poverty Wages for Home Health Aides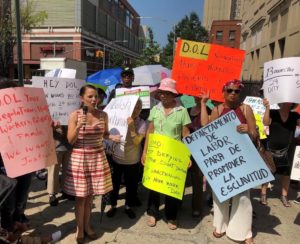 NCLEJ's Katie Deabler and Leah Lotto continued to fight for fair working conditions in New York State. On July 11, 2018, Katie testified before the New York State Department of Labor to oppose a proposed regulations that would enable employers of home health aides to horribly underpay workers by paying for only 13 hours of work for a 24 hour shift. Leah spoke at a press conference hosted by the Ain't I a Woman Campaign before the hearing and explained to the press why the proposed rule particularly impacts women of color and immigrants.
Last year, the DOL issued emergency regulations allowing unconscionable underpayment of home health aides who care for clients 24 hours a day. NCLEJ, with co-counsel at Virginia & Ambinder, filed suit in New York state court to challenge the emergency rules. Earlier this year, the DOL issued a Notice of Proposed Rulemaking and began the process of making this unjust rule permanent.
NCLEJ strongly opposes the proposed rule. Home health aides perform vital services that make it possible for people with disabilities and the elderly to live in their own homes and communities. The pay structure embraced by the DOL leaves these workers in poverty. Because vast majority of home health aides are women, and many are people of color and immigrants, the proposed rule will also deepen existing racial and gender inequality.
Our written comments can be found here.