Dozens of Statewide Groups Call on Gov. Cuomo to Sign Driver's License Suspension Reform Act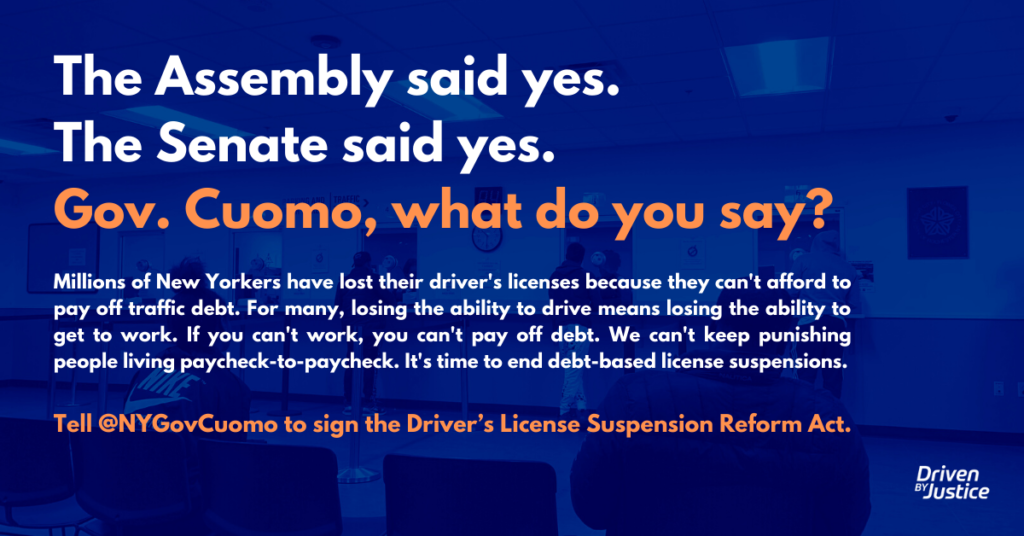 Legislation Would End Widespread Driver's License Suspensions for Unpaid Traffic Debt
Today, over 50 groups from across New York State sent a letter to Gov. Cuomo urging him to sign the Driver's License Suspension Reform Act, which the legislature overwhelmingly passed in July.
In the last three years, nine U.S. states (California, Mississippi, Montana, Idaho, Maryland, Virginia, West Virginia, Oregon, and Hawaii) and Washington, D.C. have enacted similar legislation to stop suspending driver's licenses for unpaid fines and fees.
The vast majority of New York driver's license suspensions are for traffic tickets that New Yorkers cannot afford to pay. Between January 2016 and April 2018, New York issued nearly 1.7 million driver's license suspensions for unpaid traffic debt. Because Black and Latinx people are disproportionately stopped, ticketed, charged and convicted, this cycle of poverty and punishment especially burdens their families and communities.
The new law would end license suspensions due to traffic debt, while making affordable payment plans available (at 2% of a person's monthly income or $10/month, whichever is greater). The reform would also reinstate the licenses of people who currently have a suspended license due to traffic debt.
"New York is closer than ever to ending harmful driver's license suspension policies that fuel mass criminalization, economic inequality, and racial injustice," said Antonya Jeffrey, New York State Deputy Director at the Fines and Fees Justice Center. "Families are increasingly struggling to make ends meet during COVID-19 — now is the time to stop this vicious cycle of poverty and punishment."
New Yorkers need driver's licenses so they can safely travel to work and care for their families," said Claudia Wilner, Director of Litigation and Advocacy at the National Center for Law and Economic Justice. "Yet New York's current policies prevent low-income people—especially people of color—from accessing this critical tool for economic mobility and survival.
"This bill is a major step forward on the road to ending the cruel and counterproductive criminalization of poverty in New York," said Ranit Patel, Equal Justice Works Fellow at The Bronx Defenders. "Suspending driver's licenses because of traffic debt needlessly brings thousands of people into the criminal legal system every year and exacerbates and perpetuates racial disparities in the system. In the midst of a devastating economic crisis, low-income New Yorkers should not have to choose between their health and livelihood just because they can't afford to pay a traffic fine."
Contact: