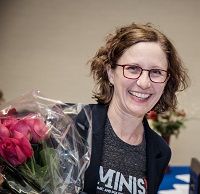 Tamara Vasan
Director of Philanthropy
Tamara Vasan comes to NCLEJ as Director of Philanthropy with nearly 20 years of fundraising experience, primarily in New York City.
Tamara has led fundraising initiatives to resource a wide range of anti-poverty, anti-oppression, and systems change work. Her expertise includes creating and implementing fundraising plans, campaigns, donor stewardship, digital strategy, program development, grant writing, and strategic planning/organizational development. Tamara is an advocate for trust-based philanthropy that centers people most impacted as the experts in their communities. In collaboration with her colleagues over the years, she has helped raise millions in private and public funds to support increased gender and racial equity across sectors and movements.
Tamara is a graduate of the Evergreen State College, where she was a researcher and co-author of American Families, A Multi-Cultural Reader, with feminist historian Stephanie Coontz. She holds a Masters in English and Creative Writing from Hollins University and a certificate in fundraising from NYU's Heyman Center of Philanthropy. She lives with her husband, Prabu, in Kingston, NY.